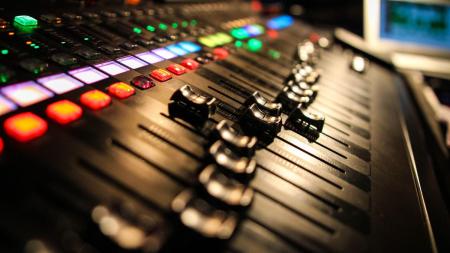 Admissions
Do you dream of working in the entertainment industry? Whether it's the Audio, Video, Tech or Broadcasting field, The Sheffield Institute for the Recording Arts is here to help! All of our Programs are taught by Industry Professionals in real commercial studios.
At Sheffield, we take pride in student success. Our hands-on approach can give you a comprehensive understanding of the industry and is designed to prepare you for employment in these popular fields. We've helped people just like you start the career of their dreams. 
Contact us today to learn more about what Sheffield can do you for you!
The Sheffield Institute for the Recording Arts is approved by The Maryland Higher Education Commission. 
Requirements:
Prospective students applying for initial admission to our recording arts school in Baltimore, Maryland are required to provide a copy of their high school diploma, transcript or GED equivalent. Students registering will need to bring:
$25 Registration Fee
Proof of Graduation (High School Diploma or GED)
Each student will be given a personal tour of our recording arts school. You'll get the chance to see our facilities first hand and get a glimpse of our professional-grade mixing, sound and video recording equipment. At that time an interview with one of our school officials will be used to determine the student's level of motivation. Students must possess the minimum verbal and written communication skills needed to be successful.
Prior to beginning any video or recording arts courses, each student will participate in an orientation meeting designed to familiarize you with our recording arts programs and school culture. Students will be given a review of the school policies, receive program documents and have a picture taken for their student identification badge.
If you would like more information about any of our programs or recording arts courses, please visit our AudioWorks, VideoWorks, TechWorks or Careers in T.V. & Radio Broadcasting program pages. To learn more about the Sheffield Institute for the Recording Arts please request more information.