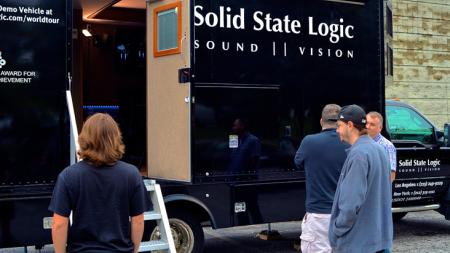 Sheffield AV's Audio Remote Truck
Sheffield's audio remote truck is well established in the broadcast and recording industries. With more than 30 years experience in the remote world, our truck provides the finest of service for our clients.
Equipped with the SSL MT+ digital console and Pro Tools HD Recording systems, our truck is capable of 64 track recording with dual back-up. Remote mic preamps and digital converters offer the finest audio quality regardless of cabling distance or environment. The large control room offers plenty of work space for engineers and producers as well as a spacious, raised client lounge over looking the room. Recent clients include The Boston Pops, Collective Soul with Atlanta Symphony Youth Orchestra, CBS, Cincinnati Pops, PBS, Lincoln Center Jazz Orchestra, New Orleans Jazz and Heritage Festival and South By Southwest Festival.
 
CLICK HERE to dowload our truck specs or click HERE to receive more information on our Remote Truck.