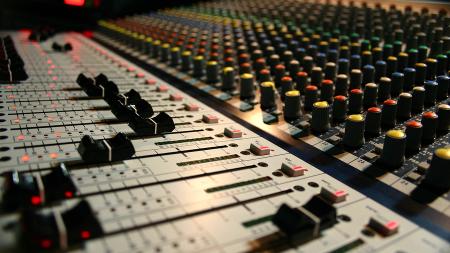 About Us
Since 1968, Sheffield Recordings Ltd. has been providing high quality media production services to the public. Today the facility has grown to over 20,000 sq. ft. containing world-class audio and video facilities. Audio studio A, our largest studio, contains an analog SSL Duality console and 48 track Pro Tools HDsystem. Audio studio B contains a digital Yamaha DM2000 console and a 48-track Pro Tools HD system.
Sheffield's video department has been on the cutting-edge of video production & post-production since 1981. Our edit suite contains Final-Cut Pro, Avid Media Composer and Adobe Premiere editing systems. The video department also utilizes Adobe After Effects, Illustrator and Photoshop for all graphic needs. We have a DVD authoring suite, and an 2,400 sq. ft. Sound Stage; complete with cyc-walls and stocked  lighting grid. Sheffield's video inventory consists of a stable of HD cameras and other fun gadgets!
Sheffield also takes its facilities on the road with the all-digital SSL MT+ and dual Pro Tools HD equipped remote audio truck. Sheffield's 44 years of experience has established our reputation as one of the national leaders in audio recording, mixing and post production. With a skilled staff, extensive equipment and impressive client list, Sheffield's name has long been associated with the highest quality audio. Sheffield's audio remote truck is well established in the broadcast and recording industries. With more than 30 years of experience in the remote world, our truck provides the finest of service for our clients.
The name Sheffield has been synonymous with high-end professional audio & video for nearly half a century, and as part of the larger Sheffield Audio/Video Productions, Sheffield Remote Recording has been in existence for over 30 years. Sheffield's remote truck has evolved in that time, starting with a 30 ft. Mack truck loaded with a Neve 8068 Console, and is considered by many to be one of the best-sounding remote trucks in the world. The need to keep clients on the cutting edge of new digital audio technologies stems from Sheffield's roots in both music and audio and video post-production. The company maintains state-of-the-art facilities in Maryland, where there are digital editing suites and a full soundstage. However, as much as we keep the technology up to date, we always make sure that it's proven, tested and reliable technology. The very core notion of remote recording is that you are going out there, and you are going to have one chance and one chance only to get it right. So the equipment has to be the best, the people running it have to be the best, and the technology has to be totally reliable.
Sheffield Remote is also equipped with the latest in monitoring – a full 5.1 surround playback system includes Genelec 1031 self-powered speakers and a sub, soffited in the control room area. In addition, a TC Electronic 6000 multichannel processor has been added to outboard racks that are already laden with a wide array of state-of-the-art processors.
This is a high-end, cutting-edge digital truck. Digital high-technology is the language of the future of music, television, film and Internet audio. The beauty of this truck, though, is that it strikes a perfect balance between what clients in all those areas need now and what they'll need in the future. It's a tight line for us to walk; it takes constant vigilance. But it's worth that effort to stay on top.
Sheffield Audio/Video Productions is located at 13816 Sunnybrook Road in Phoenix, Maryland. Sheffield is within easy driving distance of Baltimore, Washington, Philadelphia and New York City. Free parking is provided.