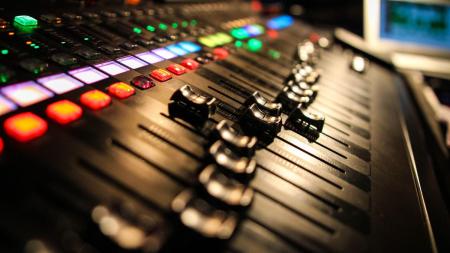 Which Type Of Sound Engineer Are You Destined To Be?
Which Type Of Sound Engineer Are You Destined To Be?
A sound engineer, sometimes referred to as an audio engineer, is a professional trained in the mechanics of recording, mixing, and reproducing sound.  Working solely with the technical aspects of music, sound engineers manipulate the different aspects of sound as a part of the overall commercial production process.
If you have ever seen an amazing concert in the heart of Baltimore, attended a large community event, or have watched a film in the theater, you can attribute the wonderful sound you heard to a talented sound engineer. 
There are four areas that make up the commercial recording production:
Recording
Editing
Mixing
Mastering
All of these areas need different music and sound manipulations before they are added to the final project.
Because of this, there are many sub-disciplines to sound engineering that all contribute to bringing audiences high-quality sound.  And chances are the sound engineers bringing music to the Baltimore community attended a high-level audio-engineering school.
For those of engineers, we'll look at the different specializations you can get involved during the commercial production process.
Front of the House Sound Engineer
This is the position that most people imagine when they hear the term "sound engineer."  The front of the house (FOH) sound engineer is the person that stands behind a mixing desk at manipulating the sound the audiences hears. 
You often find these engineers mixing music for parties but you can also find them at corporate meetings, live concerts, sporting events, or live television shows.  Though quite popular in the audio engineering industry, it is important to note that the FOH position plays a relatively small part in creating high-quality sound.
Monitor Sound Engineers
A monitor sound engineer supervises the audio during a live production.  Their responsibilities include making adjustments to a band's instruments, mixing the sound the performers hear as they perform, and mixing the performers' voices as they act or sing before a live audience.
Monitor sound engineers, also known as foldback engineers, utilize a stage monitoring system to communicate with performers as a production plays out in real-time.  Performers usually receive personalized feeds via stage floor or in-ear monitors which open the lines of communication between sound engineer and performer.  Each performer has the ability to communicate with the monitor sound engineer independent from what the audience hears so that the performance remains seamless.
Systems Engineer
Not to be confused with the field of system engineering (which focuses on how to design and manage complex engineering systems over their life cycles), a systems engineer is responsible for the design and setup of PA systems. 
PA systems allow someone to address a large audience and include the microphone, amplifier, and loudspeakers.  For example, Baltimore's Oriole Park at Camden Yard requires the announcer to address the audience over loudspeakers during the game. 
Since modern PA systems are very complex, there is a lot of technical knowledge required to perform the job well.  In addition, systems engineers usually manage the FOH and monitor sound engineers.  This is a lot of responsibility and requires the completion of audio engineering courses to fully understand the position.
Studio Sound Engineers
Sound engineers work strictly in-studio.  Sometimes called a re-recording mixer, studio sound engineers make high quality recordings of music, speech, and sound effects. 
Working in post-production part of a commercial recording, a studio sound engineer attempts to achieve balance between all parts of the audio the audience hears.  This is in addition to matching the director's desired vision for the production.
Studio sound engineers work to mix recorded dialogue, sound effects, and music to create the final product for a film, television show, or advertisement commercial. 
It is important to note that studio sound engineers must follow the national sound laws that are in place to protect consumers' hearing. 
One such bill, the CALM Act, was created by the FCC to lay out specific regulations regarding television volumes.  These regulations apply to all states, Maryland included.  Because of this, those seeking a career as a studio sound engineer should invest in audio engineering classes to learn all of the techniques of post-production sound processing.
Other Sound Engineer Disciplines
As mentioned earlier, there are many sub-disciplines in the field of sound engineering.  And with the right education from one of the best audio engineering schools in Baltimore, you can easily find work in any of these fields.
Here is a quick rundown of some specializations in the sound engineering industry that you may be interested in:
Research and Development Sound Engineer:  Inventing new audio technologies, equipment, and techniques, a Research and Development Sound Engineer enhances the process and art of audio engineering.
Wireless Microphone Engineer:  These sound engineers handle the wireless microphones for theatre productions, sporting events, and corporate events.
Game Audio Designer Engineer:  These engineers work on audio for video and computer game development.  Their responsibilities include adding audio to the game, improving the overall sound, and delivering quality audio to those playing the games.
Recording Engineer:  Recording Engineers work specifically on recording sound for various productions.
Mix Engineer:  Another focused sound engineer position, Mix Engineers mix different tracks to create new ones.
Mastering Engineer:  This particular sound engineer works on finalizing the work of a mix engineer by making the parts created into a whole.
Final Thoughts
Becoming a sound engineer is a dream that you can achieve.  There are numerous employment opportunities and the industry is growing every year, and the salaries are favorable as well.  There are many specialties that you can break into to make your job that much more exciting and successful.
If you are in the Baltimore area and are looking to attend a reputable recording school offering the best audio engineering classes, check out Sheffield Institute for Recording Arts.  Touted as one of the top audio engineering schools in the region, they teach students both the business and hands-on side of the audio engineering business.  Call today and see how you can enroll in classes soon and start building the career of your dreams.
A sound engineer is a professional trained in the mechanics of recording, mixing, and reproducing sound and manipulates sound as a part of the commercial production process.