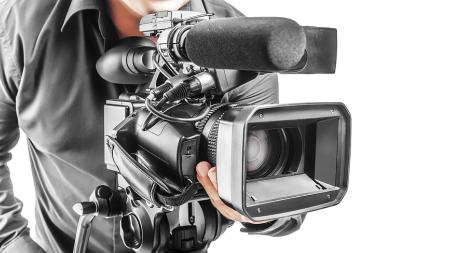 Video Editing Courses
The constantly evolving medium of video is the future of communications. Thanks to the Internet, streaming video, and portable personal devices such as smartphones and tablets, video continues to grow as a source of entertainment, news, and information because it is easily accessible, readily available, and reaches a worldwide audience, more so than any other form of communication. Think about how often a video goes viral via social media outlets and how far it reaches globally. As the widespread use of video increases, so does the need for talented, well-trained video editors.
Get the Real-World Training You Need
Professional video editors create and polish the messages conveyed to viewers. At Sheffield, we'll train you through our video editing courses to become a multifaceted editor capable of handling a wide variety of projects and clients, from a music video for an up-and-coming band to a marketing video for a tech startup to an educational video for a nonprofit group. Once you're on our VideoWorks program track, you'll learn how to professionally craft videos that stand out among the amateur work already crowding the market.
Experienced industry professionals teach our video editing courses, and our program tracks have an advisory board of industry professionals helping guide our course offerings and keeping us current with the latest technology.
Students receive hands-on, comprehensive training with access to our two offline/online video suites containing Avid Adrenaline and Avid Xpress Pro editing systems. Our video department also has access to Adobe After Effects and Adobe Creative Suite, a DVD authoring suite, and our 2,400 sq. ft. state-of-the-art sound stage. Successful graduates of the VideoWorks program are prepared for a variety of entry-level jobs that can lead to positions such as Editing Assistant/E 2 (2nd engineer) and Offline Video Editor.
The Sheffield Institute for the Recording Arts can help you secure your place in the future of communications as a professional video editor. To take the first step toward your career as a video editor, just fill out the form on the Contact Us page today. We look forward to helping you take the next step toward your future.