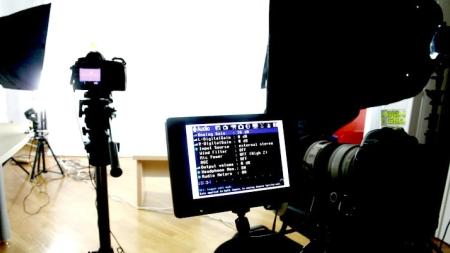 How the Internet is Changing the Filmmaking Industry
Try as you might, there is no denying that the internet has changed the film industry dramatically.  With online activities becoming so ingrained in people's daily lives, it can be difficult to even remember a time when movies and filmmaking were not tied to websites, social media, and online streaming.  In fact, there are some of us out there today that will know nothing but the digital film age, having no idea what the film industry was like before computers, internet, video games, and cell phones. 
Today we will take a look at the major ways the internet has changed the film industry and how that affects you as you earn your digital video production education.
Video Production
Aside from blockbuster hits directed by some of the most historical players in the film industry, these days the internet paves the way for nearly anyone to produce a film. 
Digital video production tutorials swirl the internet, giving people access to information that was once only offered in specialized schools. 
Online video production tools for editing productions and streaming them across multiple platforms have become widespread.
Live film production has increased in popularity as people's desire for instant online access has risen.
Of course, this is not to say that these digitally produced films are any good.  Novice filmmakers taking matters in to their own hands without a solid education in digital video production are sure to produce poor quality material.  However, the point remains that the film industry is no longer a specialized occupation requiring insider connections in order to gain employment. 
Promotion
Prior to the widespread use of the internet across America (after all, only 15% of Americans do not use the internet as of 2015) film studios could only promote their upcoming film productions via posters, magazine ads, newspaper articles, and television commercials.  And let's not forget the still widely used method of movie trailers right before your feature film plays at the cinema.
However, as the internet boomed and the film industry became flooded with those educated in digital video production, promotion of films took on a whole new look.  What first started as simple content-related information in the form of star biographies, production details, poster images, and occasional sound clips, has now turned into digital remastering of movie trailers that are spread across the globe online.
Current promotional material for the film industry is curated on singular websites dedicated to nothing but advertisement.  The content is more feature-rich, offering site visitors a better user experience and more active engagement.  Advanced image galleries, video features, and website themes take the entire process of promoting a film to a whole new level.
Increased Marketing Demand
In line with the different promotional methods the internet has spurred for the film industry, overall marketing efforts have changed as well.  Anyone who takes digital video production courses should have a solid foundation in how to market their films, or those they are working on, via the internet.  Examples of this include:
Email list building for disseminating information to loyal fans and followers.
Drip-feeding promotional material to those subscribers.
Accessing and utilizing various social media platforms to expand your promotional reach.
Production of new and exciting mini- trailers that rival the competition and grab people's attention.
Constant website updates throughout the entire production process keeping fans in the know.
Interacting with those interested in your film to show you value their business as moviegoers.
Since the internet is everywhere you must extend your reach everywhere in order to be successful in the film industry.  For someone who has experience in digital remastering and video production, these marketing techniques offer some unique ways to showcase some of your many skills. 
File Sharing Threatens the Entire Industry
"Back in the day," film piracy consisted of a shoddy VHS recording of a film from television (complete with commercials) or the copying of legitimate VHS tapes that again typically produced poor results. 
With the rise of internet use, however, online piracy has threatened the entire film industry as a whole.  For instance, those who are intelligent enough to hack into major databases, such as those belonging to Sony Pictures, have the ability to "leak" any film they can get their hands on that exists within the database. 
Additionally, with popular file-sharing websites, such as Napster, tapping into films that have yet to reach the cinema yet, there would seemingly be less reason to attend the movie theater or even buy the DVD of any film. 
For those involved in the film industry, this raises several issues.  Monetarily, everyone involved in the film production process fails to receive their fair share of proceeds when films are being pirated and are being seen for free.  This may lead to job layoffs and less local tax revenue, which can hurt an entire community.
 Additionally, in order to fight this illegal use of films across the World Wide Web, those involved in digital film production must increase their security measures.  This includes safekeeping any websites that feature film production at any stage, securing DVDs to prevent illegal upload to the internet for distribution, and even foregoing sequels due to the heightened risk of early "leaking" and a major loss in revenue.
Instant Feedback
Those in the film industry must be at the top of their game at all times.  With the use of texting, social media updates, and forums spread across the internet, people can share their opinion about anything film-related instantly.  This can have a major effect on the success of a movie that has just been released. 
Rather than wait for a professional magazine or newspaper movie review, ordinary people can upload their opinions directly to the internet even before leaving the cinema.  This may encourage others to see a particular movie, or worse, discourage a viewing.  In any case, this can have lasting effects on the overall success of a movie.
If you are enrolled in digital video production course take heed to learn as much as you can.  This way when you enter the field and start your career, you can be at the top from the beginning.  Producing poor quality films from the get-go can be detrimental to your reputation and future employment opportunities thanks to the ease in which opinions are spread across the world online. 
Streaming is on the Rise
The act of watching a movie via your internet connection, aka online video streaming, is proving to be the next best thing when it comes to film distribution.  No more trips to the expensive cinema, where food often costs more than the movie itself.  Plus, there is no more need to buy exclusive bonus material DVDs that only play on special Blue Ray players and cost an arm and a leg. 
With online streaming services such as Netflix, Amazon, and Hulu taking over, it is important to become experienced in the production side of video streaming.  As a student taking digital video production courses, understanding this new technology can have a positive effect on your career once you enter the film industry as a professional.
Final Thoughts
It's okay that things are changing in the film industry.  And, although there are some definite drawbacks to the increased use of the internet when it comes to the film industry, truth be told, there are some really positive advantages as well.
As a student taking digital video production courses at Maryland's premier production school, The Sheffield Institute for the Recording Arts, you will learn the essentials behind the changing film industry and what profound effects they may have on your future career.
With industry professionals who have been through change and know how to adapt, state of the art technology and equipment for keeping up with the current trends, and helpful career placement services that can direct you to a job that highlights your best skills, Sheffield is the place to go.
Not enrolled yet?  Contact Sheffield today and see how they can help you start your career in digital production now.  Your dreams can be a reality so long as you take the leap.