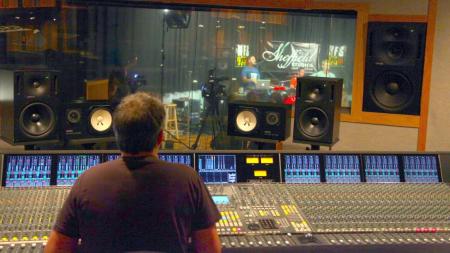 Audio & Video Courses
Courses at The Sheffield Institute for the Recording Arts
At Sheffield, we combine the theory taught in traditional classroom settings with a hands-on approach to give our students a unique educational experience. Lab work is divided into smaller groups to give you the opportunity for more individual attention from our instructors, all of whom are established and respected within the industry. The equipment you will work with is the same you will find in most studios.

You can choose from four courses:
 
From working in a recording studio to a theater or concert venue, qualified audio engineers are always in demand. The AudioWorks course is designed to help you develop the hands-on skills and essential knowledge of technology required for an audio engineer. Learn more about AudioWorks.
 
With the popularity of streaming video, the number of careers in video production is expected to rise. Video production is a highly involved process involving a number of different personnel in any video shoot, from lighting technicians and camera operators to editors and directors. Learn more about VideoWorks.
If you have an interest in how things work and a knack for making them work properly, TechWorks may be the perfect option for you. The program begins with electronic principles and advances through cable management and equipment maintenance. Learn more about TechWorks.
If you want to work in the broadcasting industry as an on-air personality or behind the scenes, this course gives you a thorough look into the structure of the industry, as well as the hands-on training you need to succeed in the field. Learn more about Broadcasting.


For more information about any of the programs that we offer, fill out the form located on the Contact Us page.