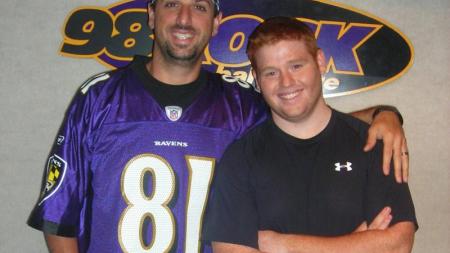 Alumni Stories -
Greg Hood
Oh man I don't even know where to begin! This opportunity has been truly amazing so far. I'm working with the 98 Rock Morning show, as the assistant producer. I mean what else could you ask for? But here's what I've been up to. I'm pretty much Scott the Producer's apprentice and I get to spend the mornings with him helping to produce the show. He's a great coach and has allowed me to get my feet wet in almost everything he does. I have been doing production work, putting together the promos for the next day's show that are played on air. It's pretty exciting and extremely rewarding to hear my work go over the air! I also set up the "Best Of Mickey, Amelia, and Spiegel" segment that is aired every weekend. 
It's been a really smooth and easy transition working here since the programs that they use at the station are what I learned on, Adobe Audition and Audio Vault, so it helps out with the learning curve. I put together the audio for our news genius, Mr. Josh Spiegel and he uses that for his hourly news broadcasts and I do plenty of work with the show's website. I also generate show prep for the hosts to read up on the day's guests, I answer the phones when a contest is going on and get to hook up a lucky listener or two, and I monitor all the listener texts that come in during the show. 
Aside from the actual "work" (which I use loosely), I also get all the morning show perks. I get plenty of air time, but I also had a chance to break down the Raven's game with Keith Mills! I've met Freddy Krueger, Slash from Guns N Roses, talked to Jarret Johnson, hung out with Ravens Cheerleaders, (sorry Jake that last one was for Mike and Vance lol). But all in all, the best thing about this dream gig is seeing how a number one radio show is produced and getting a taste of what I'm going to be doing with my career. Scott really is an awesome mentor and is doing so much to help me understand how radio really works from a real world hands on perspective. The other guys are awesome too. I feel like I'm looking into a mirror when I talk to Mickey and Amelia and Josh are always really nice. Obviously they give me a hard time now and then but that's expected. All in all, the guys are a really great crew to work with and I feel so lucky to be doing what I'm doing every morning.
I can't even begin to try and put in words how grateful I am for this opportunity. Thank you so much for going to bat for me and helping me to lock this down. It's such an incredible experience and I'll continue to keep you guys in the loop throughout the rest of my career in radio.