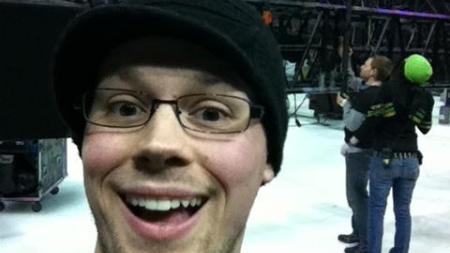 Alumni Stories -
Corey Tobin
I'm a graduate of the Audio Program from the fall of 2004.  One month after graduation, certification and confidence in hand, I started working for Feld Entertainment as a sound engineer and stagehand on their traveling ice shows. It's been almost 10 years now.  In that time, I've been to 40 countries, worked on 7 productions (including the Ringling Bros. & Barnum and Bailey Circus) gained other skill sets such as rigging, ground support and production management, and obtained a wealth of audio knowledge that simply cannot be absorbed through any means other than just being on the road.
The most important training that I received was on Meyer Sound's SIM 3.  SIM 3 is used in sound system design with regards to room analysis and optimization, among other useful ways.  We have this on every show and it's as integral to our success as a department as the mixer.  It falls on the HOD to not only know this software/hardware but to be able to teach their assistants, so you are effectively "The Man".  If you truly understand its capabilities, you have a tool in your toolbox that will help you for the rest of your life.  I also received training early on at the Meyer Sound Laboratories by Bob McCarthy himself.  Look into these courses and any others from Meyer Sound if you truly want to give yourself a huge leg up in the live sound industry. Whether you are changing the angle of a cabinet or using reference microphones to view and record phase and frequency response and implement delay and equalization, you are designing a sound system that is both creative and specific to the space that you are playing that week.  It's a real-life application of live sound reinforcement techniques and system optimization.
My advice to anyone is to jump at the chance to increase your abilities and don't be afraid to take it on the road!  It can be tough but so can a 9 to 5... as most of us already know.  Currently, I'm in the process of becoming less of a transient and more settled down but don't get me wrong, it will be an adjustment. Ultimately, I owe the skills and motivation that I have now not only to Sheffield but to a company that gave me a chance to embrace the career I love and all that it has to offer.  Do the same and never stop learning!