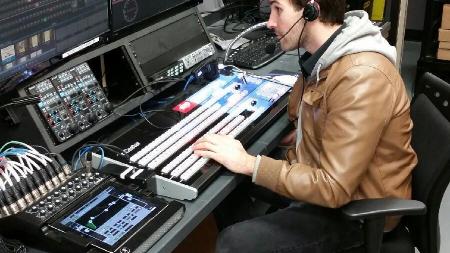 Alumni Stories -
David Hebden
Let me start by saying that I loved my time as a student of Sheffield!!
After studying music as an undergrad, I came to the understanding that I wasn't just interested in the musical application of sound, but in sound as a whole. Sheffield's Audio-Works program provided me with a great environment in which to learn about this art form. I was given every opportunity to develop my skills with professional-grade equipment in a legit recording studio, while learning the ins and outs of the business from audio veterans such as Jamie, Jake, Keith, Drew, and Glenn. I couldn't have asked for a more experienced group of awesome engineers, and I want to thank all of them for helping me launch my own audio career.
After graduating from the program, I took it upon myself to continue my audio education on my own, in order to stay fresh and fully embrace the saying, "You're always learning in this business." This helped me apply with confidence for my first audio gig at The Real News Network, a web-based news company in the heart of Baltimore City.
After only three months, I now am the sole audio technician for the entire network. I'm involved in almost every aspect of daily news production, and I am learning more than ever. My daily activities (among others) include setting up for studio interviews, micing talent and running soundboards, installation of new equipment, engineering for private events with live bands or AV presentations, and audio/video editing.
I have rarely been presented with a challenge that I could not meet, and I have Sheffield to thank for preparing me for this kind of work. Most importantly, preparing me for how to conduct myself as a professional.
I wish all the students, alumni, and instructors the best of luck with their current or aspiring audio careers. Mine is just beginning, and I'm excited to see where it takes me.